This recipe came about when we decided to begin testing recipes for Oreo cake pops. We knew that we didn't want to use storebought Oreos for the cake pops because they are really sweet. Our cake pops are sweet enough without the addition of cookies!
So, before we could begin a recipe for Oreo cake pops, we first needed an Oreo! We tested a ton of recipes, tweaked, tasted and finally found the perfect one. It's a great recipe for both enjoying as an Oreo cookie and as an ingredient in our recipe for Oreo cake pops.
Below you'll find details on the recipe, including how we developed it and why the cream filling is so perfect. And feel free to skip to the recipe if you are ready to get started!
Recipe Table of Contents
About our homemade Oreo cookies
I am so excited to share this recipe because I love these homemade Oreos! They are so good that I no longer want to eat 'regular' Oreos now because they aren't these.
This recipe results in dark chocolately Oreo wafers and a cream filling that doesn't ooze when you bite into your cookie.
These homemade Oreos are also great at room temperature days later. The cookie wafer itself is pretty dry and the cream is stiff and doesn't lose shape, so they are just as good on day three as day one. The cream is also really dry, which means the cookie wafers don't absorb any excess water and get soggy. Just like regular Oreos!
My 4 year old eats these Oreos like any kid– opens the sandwich and eats the cream first. I prefer to eat them with milk!
My favorite thing to do with these homemade Oreos, though, is to gift them. They are absolutely precious and it's obvious that a lot of time and thought goes into each. I like to put them in a Weck jar like this one because it's really quick to put together and looks great.
You can place the Oreo cookies in a cookie tin lined with parchment paper. Make sure to place the cookies on their sides like you'd find in a traditional Oreo package if you do this! It would be the perfect 'wecome to the neighborhood' gift— though, Ill be honest– it set the bars really high! If you start gifting homemade Oreos you'll just have to own the persona that comes with the territory. You know– homemade jams, homemade pimento cheese, homemade animal crackers. No shame in my game!
Developing our homemade Oreo recipe (all the details!)
I wanted to share a bit about developing this recipe for any of you that love all the details when it comes to baking. You'll find out what makes these homemade Oreos special and why I settled on a certain techique for the cream filling.
Homemade Oreo Wafer Cookies
We started the development of this recipe by testing various recipes for homemade Oreos we found online and in cookbooks. I made a ton of Oreo wafers until I found one that would look cute enough for a homemade Oreo and would be tasty enough for our cake pop.
I wanted it to be extra chocolately, so I made sure to use Dutch processed cocoa powder. The dark chocolate flavor certainly comes across in these!
I also didn't want it to be too sweet, so I used less sugar than other homemade Oreo recipes call for.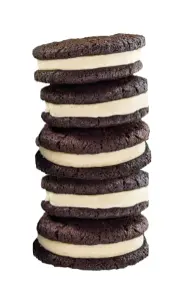 For this recipe I decided to roll the cookie dough out and use rounds to cut them to size. You could also scoop these with a cookie scoop, especially if you are planning to make Oreo cake pops with these cookies. The cookies don't need to be perfect size or shape if they are going to be crumbled for cake pops.
Homemade Oreo Cream Filling
My husband had one request when developing the cream center: make sure it doesn't ooze out when you take a bite.
The cream filling in a real Oreo holds it shape when you bite into it, but a lot of the recipes we found online didn't do this. With just a little bit of pressure, the cream filling would come out the sides. The Oreos still tasted great, but the messy situation wasn't ideal.
To remedy this, I made sure to use a lot of powdered sugar and no milk in the cream filling. The excess powdered sugar really worked to dry the cream out. And then because of that, I got to play around with cream technique!
I initially tried to pipe the cream because I was hoping for a uniform look. The cream was way too thick for that.
And then I had an idea to roll a teaspoonfull of cream filling into a ball (a la cake pops.) That actually worked and seemed promising. However, the cream filling formed cracks around the side when pressed between two cookies. It wasn't the end of the world but it didn't have that signature Oreo look.
The cream filling was so easy to handle and not at all sticky that I eventually had the idea to roll it out.
I used my adjustable rolling pin set to the 1⁄6 ring and it came out perfectly flat. This was a good height for a Double Stuf-style Oreo cookie. I had parchment paper on the bottom and the top to keep anything from sticking.
After that, I used a 2″ round cookie cutter to cut out cream filling rounds. Most came up from the parchment paper immediately and I used a small knife to loosen the cream filling rounds that didn't. I tried a few different sizes of cookie cutters for this and was glad I had a whole set of round cookie cutters to choose from. The 2″ cookie cutter was perfect for my size Oreos, but yours may be different.
What is Dutch cocoa powder?
Let's quickly talk about Dutch processed cocoa powder and why it's used in this recipe.
Before I really got into baking I always assumed the brown Hershey's package was the only type of cocoa out there. But after playing around with various ingredients, I quickly realized that there are a ton of different types of cocoa powder. And that, depending on the way it's processed and the types of cocoa beans used, cocoa powder can have a profound impact on your recipe.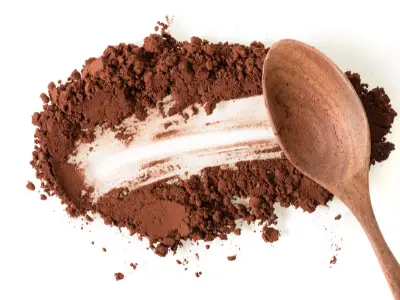 Regardless of type, cocoa powder is simply the dry solids from ground up dried and roasted cacao beans. Cocoa butter is extracted while processing cocoa powder, so it's a very dry product.
'Regular' or natural cocoa powder is exactly as described above without any modifications. Cacao beans are dried and ground, and cocoa butter is removed during the process. Natural cocoa has a milder flavor, but the flavor can vary by brand.
Dutch-processed cocoa, on the other hand, is modifed to lessen its acidity. Potassium carbonate is used to neutralize the cocoa and in the process it makes the cocoa powder even darker than natural cocoa powder.
My personal favorite is Dutch cocoa powder, though I always use what the recipe calls for. Generally speaking, if the recipe calls for 'cocoa powder', you should use regular / natural cocoa powder. It's actually cheaper than Dutch processed cocoa powder and is way easier to find. My regular grocery stores don't have Dutch cocoa powder but I can always find it online or at specialty stores nearby.
As far as where to buy bulk Dutch cocoa powder, Webstaurant has a great product. This particular one linked is super rich and has a dark chocolate taste. It leads to a very dark chocolate cake taste, which is perfect for our recipes, especially cake pops!
Homemade Oreo Cookie Recipe
Prep Time: 1 hour • Cook Time: 40 minutes • Total Time: 1 hour 40 minutes • Recipe Yield: 20 oreo cookies
Recipe Description
Oreo Cookie Ingredients
all-purpose flour (1 1⁄4 cup)
dutch cocoa (~50g // weights vary)
unsalted butter (1 stick)
large egg (room temperature)
Oreo Cream Ingredients
butter, softened (½ stick)
Tools Needed
Oreo Cookie Directions
Preheat oven to 375. Line a baking sheet with parchment paper.
Mix flour, cocoa powder, baking soda, baking powder, salt and sugar in the bowl of a mixer.
Add butter and mix until full incorporated (3-5 minutes on high.)
Add egg and mix thouroughly, scraping the side of the bowl as needed. The dough should come together in a mass.
Roll out cookie dough and use a round cookie cutter. I used a 2″ round cookie cutter and used the 1⁄6 ring on my adjustable rolling pin. Place on a parchment-lined baking sheet.
Bake at 375 for 9 minutes, rotating once halfway through.
Let cool completely on a wire rack.
Oreo Cream Filling Directions
Note: if using these in our Oreo Cake Pop recipe, you don't need to make cream filling. The cake pop recipe uses the cookie part only.
Beat the butter and shortening on high until creamy, about 3 minutes.
Add the powdered sugar and vanilla extract on low.
Mix until smooth and creamy.
Add kosher salt. Mix until incorporated.
Roll out cream to desired thickness. I went for a 'Double Stuf' look and used the 1⁄6 ring on my adjustable rolling pin.
Cut out cream filling rounds using a round cookie cutter. You'll want to cut out your rounds based on the size cookie you have. I typically use a 2″ cookie cutter, but I'd recommend getting a round cookie cutter set with a variety of sizes so that you have several to choose from.
Assemble Homemade Oreo Cookies
Match cookie pairs together to make sure your cookies will be uniform in size.
Place cream filling round on the inside of a cookie. Gently place the other cookie on top.
Repeat until all cookies are filled and sandwiched. Store in an air-tight container.